Had to take a day away from the project and get some housework done. It's good to step away from these kinds of things from time to time. You come back with a fresh perspective
and
the laundry done!
Time to remove the spindle. As I remarked earlier, at this point it's presently only held on there with a very slight interference fit between the machined surfaces. Either thread a nut on the end of the spindle to protect the threads or wrap a rag around it because when it comes off, it comes off all at once and down she goes. Using a hammer or something
softer than the spindle
, tap on one side, fill the gap you've created with something broad and wedge-like (like a large flat screw driver) to act as a fulcrum and then tap on the opposite side and out it comes.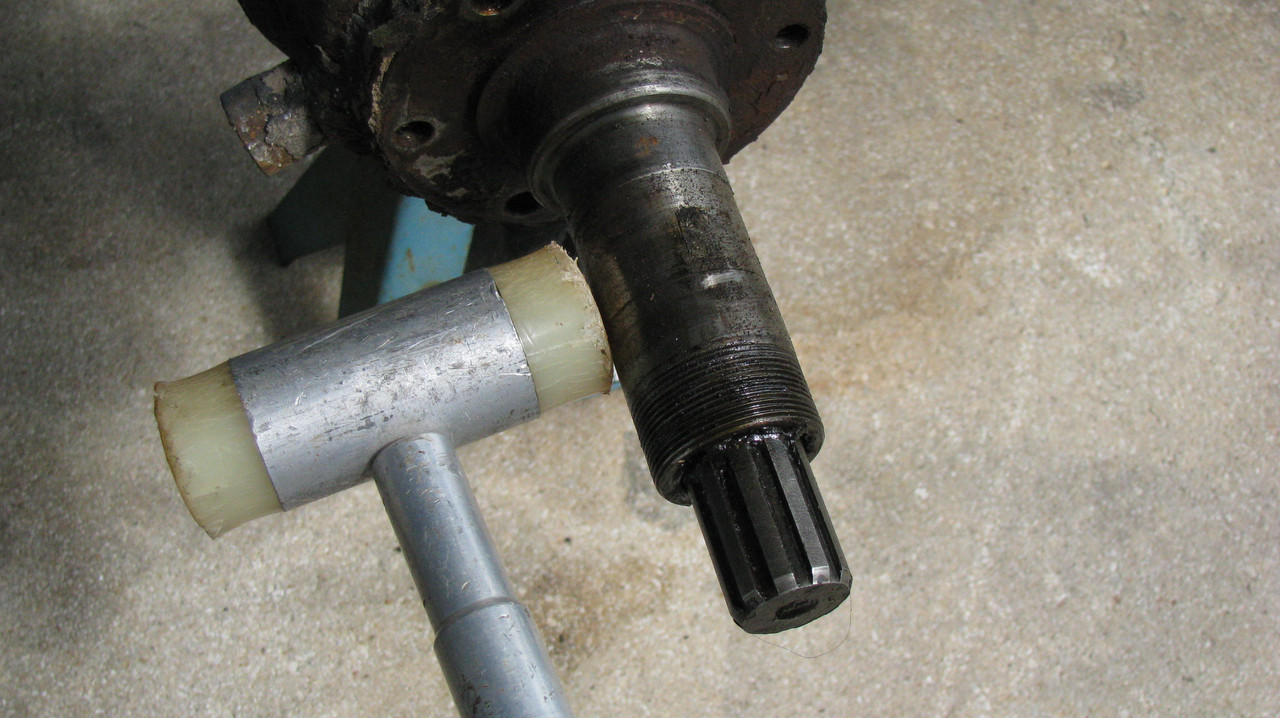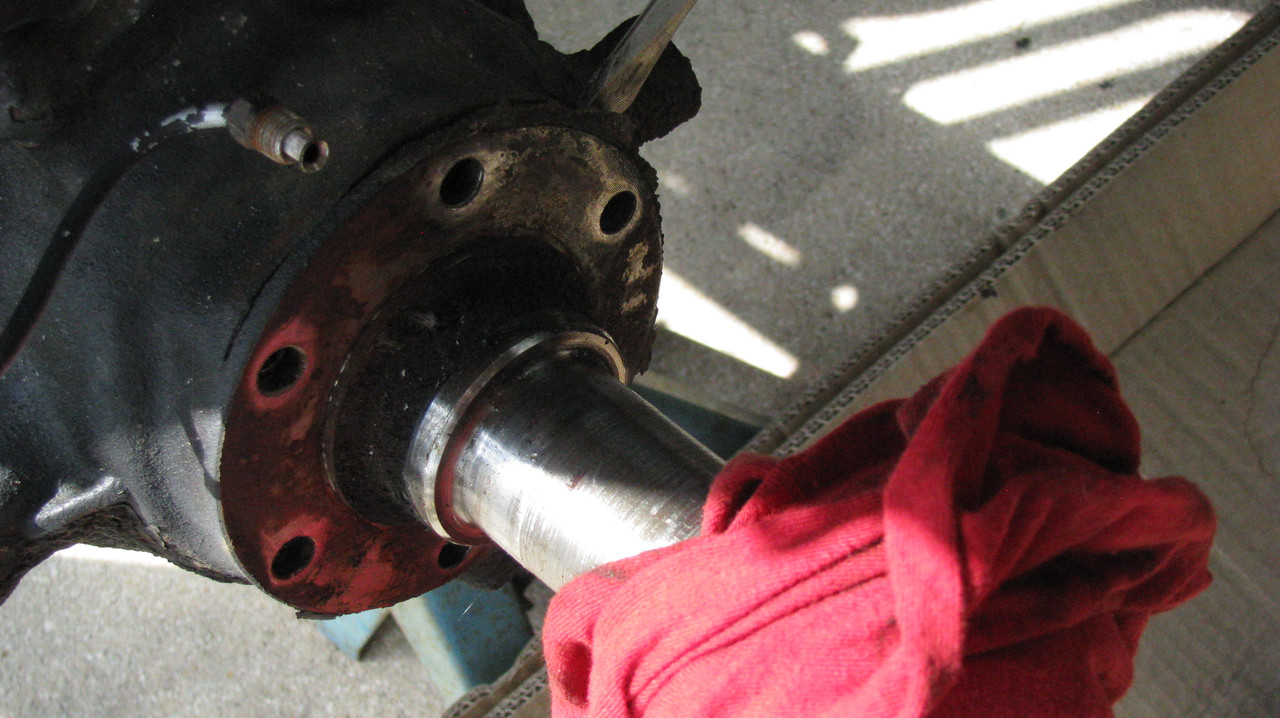 Note the gold-tone coloration on the inside of the spindle. That's a guide bushing and probably bronze. It has two very clever relieved areas cut into its face with likely has something to do with picking up lubrication and channeling it into the bushing. Also notice that those channels are cut in such a way that the bushing is universal. It can be used on either the right or the left side and still get the job done. So many things like that are very well thought-out on these old trucks. We may be looking at tech that is 70-80 years old but these guys knew what they were doing!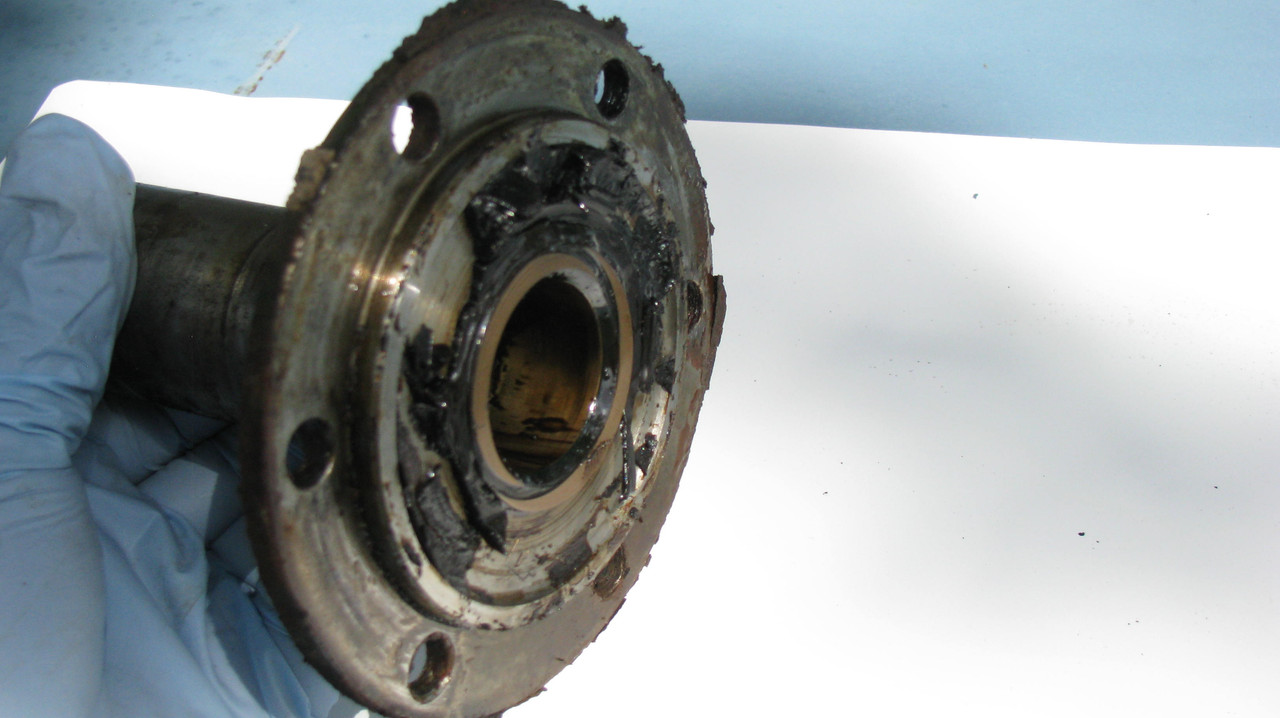 Cooper sez, "Good job, Daddy-O!"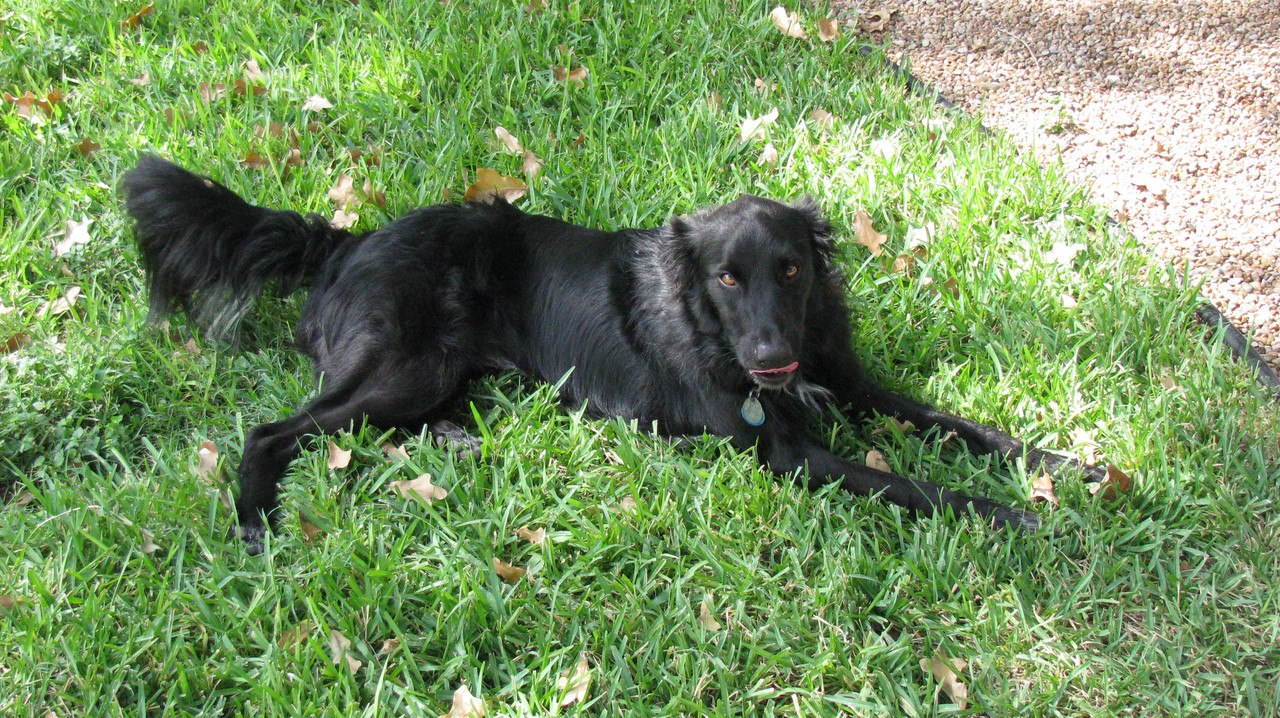 And, it's back to watching the world go by... A dog's life is a simple one.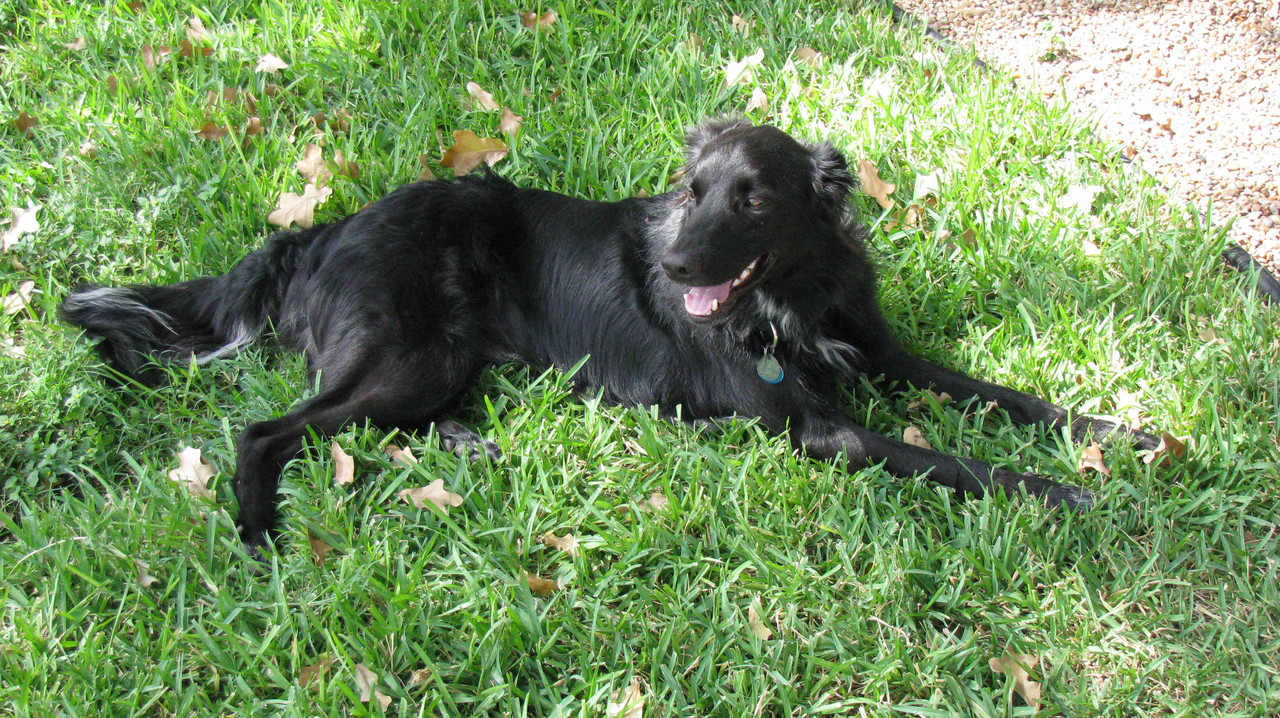 Mmmm! Eau d' 90 weight!
Smells good!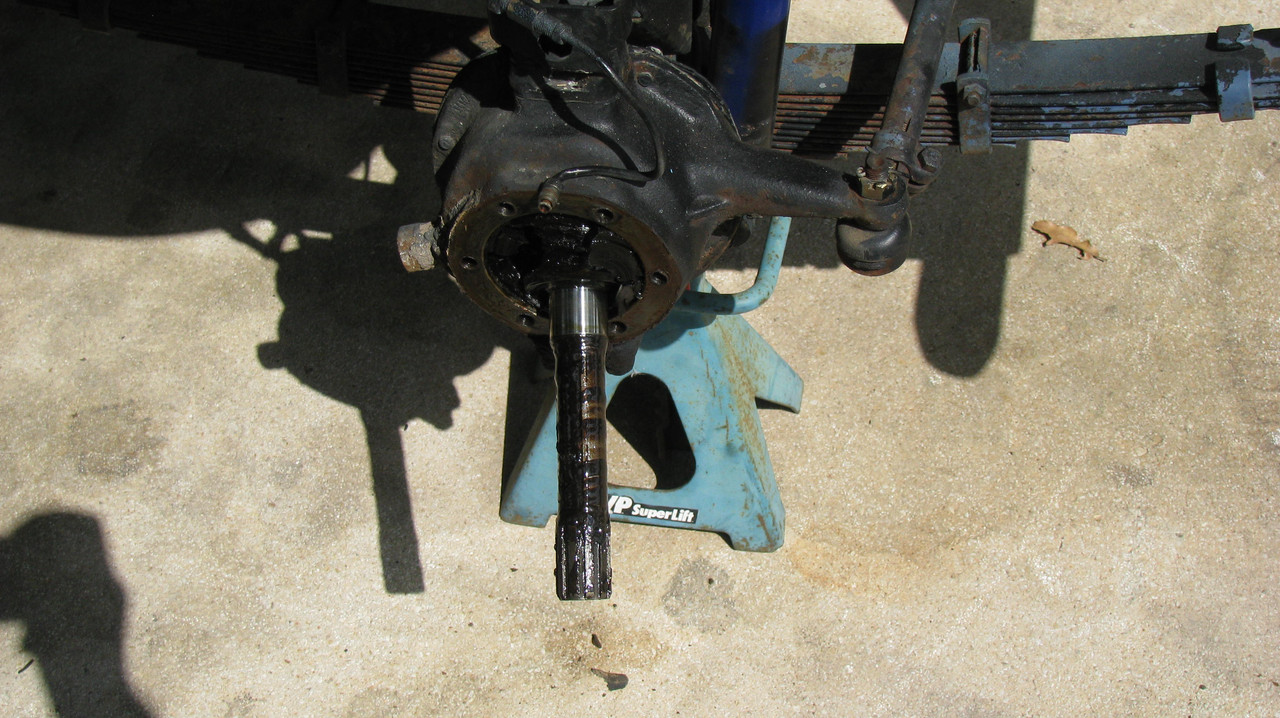 Next, tie rod ends. Loosen the castellated (
or castle
) nut.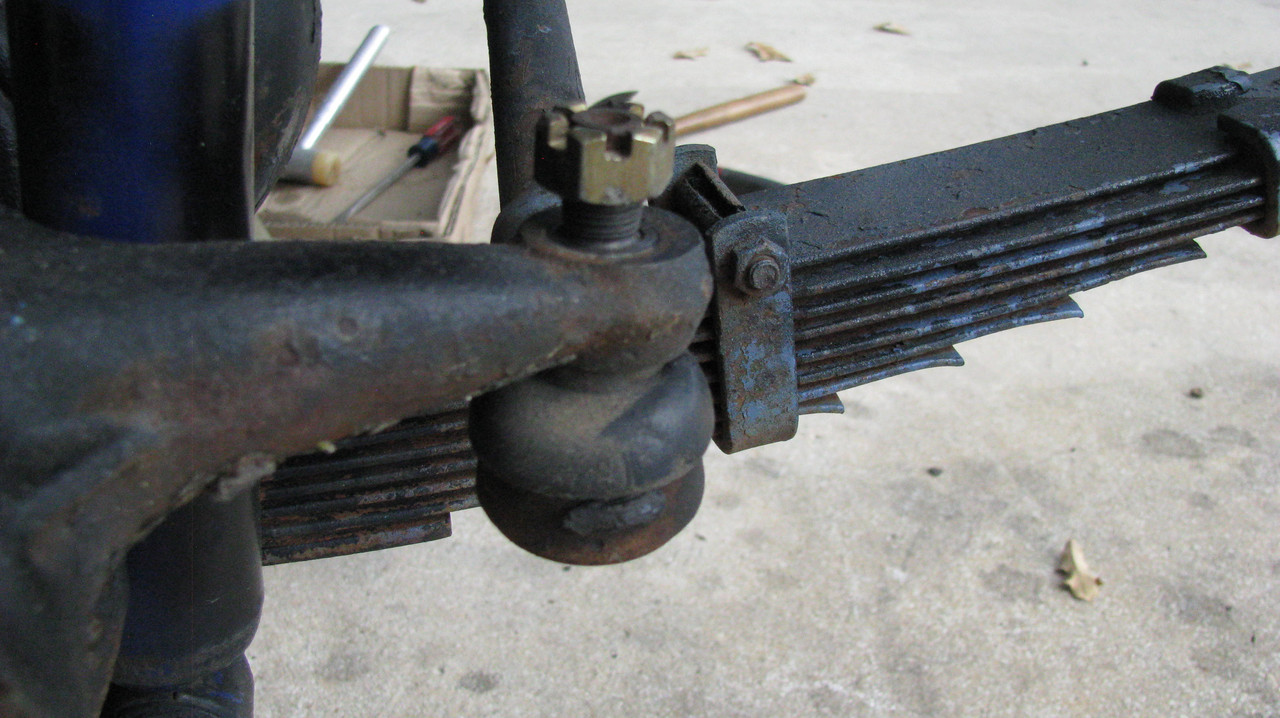 Get set up for giving that knuckle a good shock by putting one hammer against it on one side and then whack it on the opposite side.
If it doesn't drop right out, flip the castle nut over,
thread it on the full thickness of the nut
to protect the threads of the tie rod end and rap it
squarely
with a copper mallet.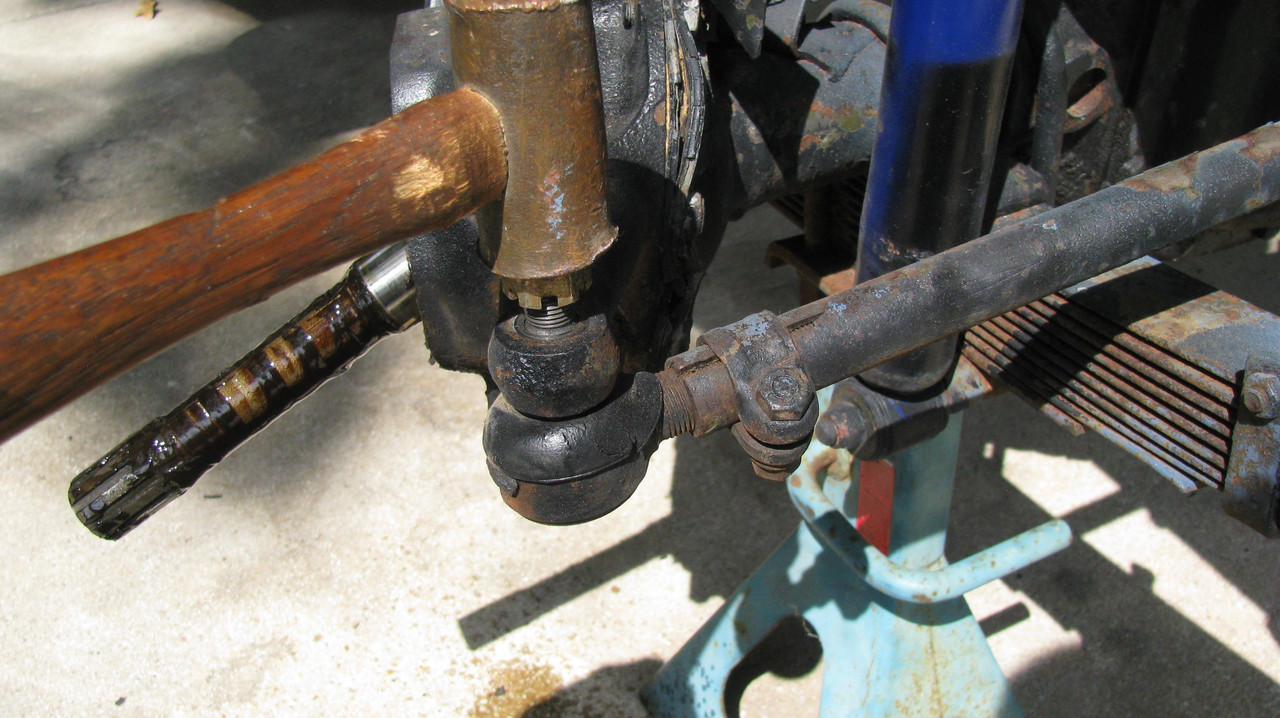 And out she comes!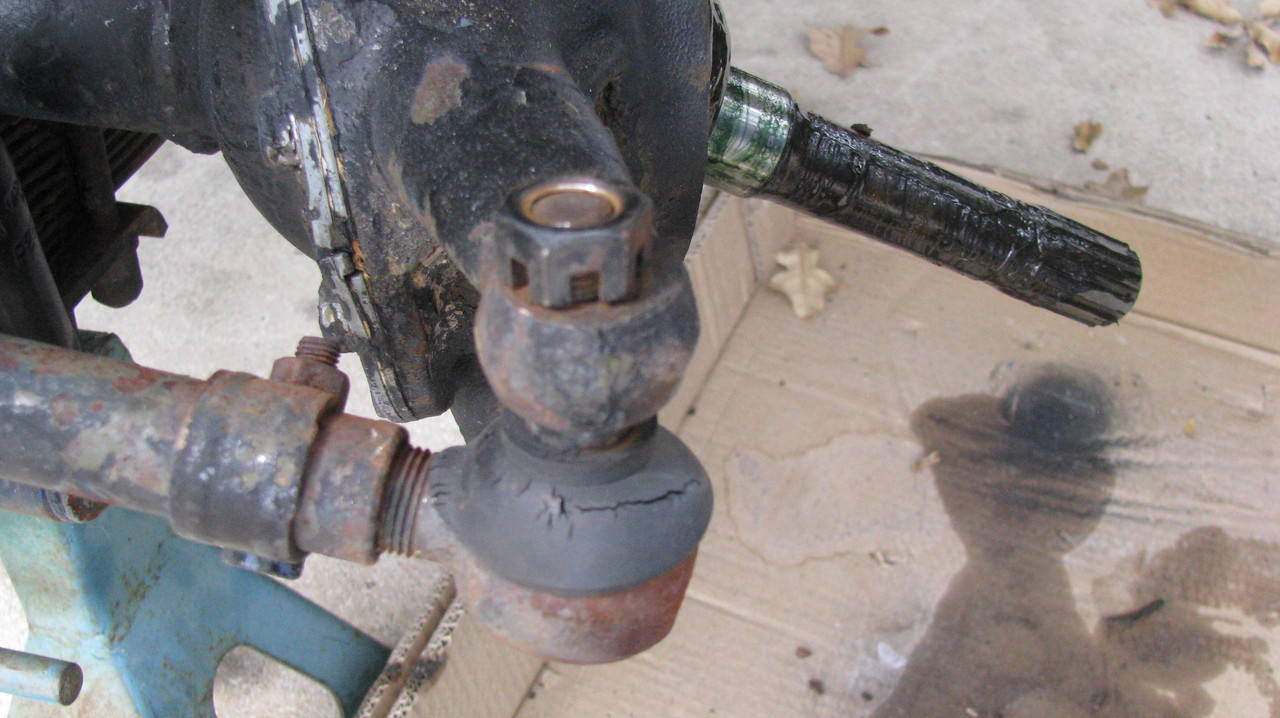 Flip the nut back over, put it back on and throw that old cotter pin back in as a gentle reminder for reassembly.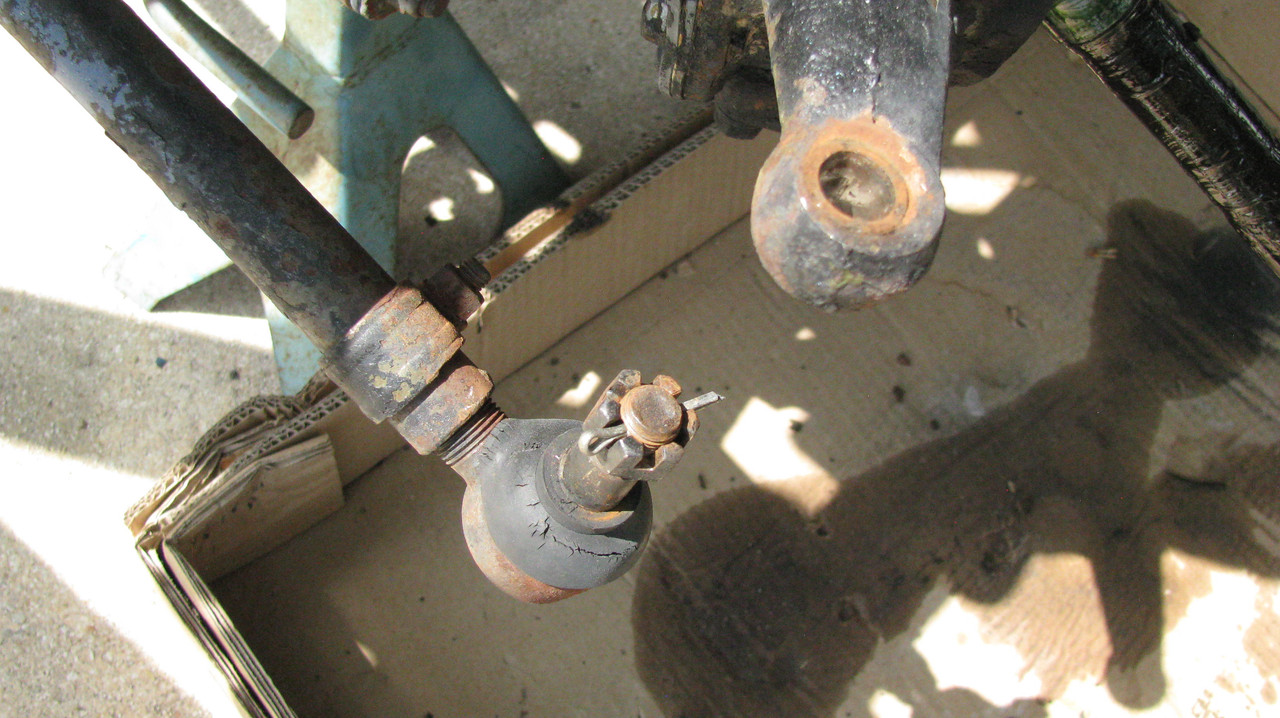 While I was there, I couldn't help but notice the awesome quality of this ground at the battery tray. Nice, huh? But this is a big trap for those of you who may be new to all of this. When you are working on a vehicle like this; one that needs at least one of
everything
, if you are paying attention, you are going to notice
lots
of things like this. Things that
desperately
need attention. But, in order to remain persistently organized, jumping from one part of the project to another isn't going to cut it. That's buckshot mechanics and it's a no-no. Poor grounds have absolutely nothing to do with what we're presently about, so, the thing to do is make note of it and come back to it and by "make note of it" I don't necessarily mean making an actual note. Notes get lost, even when they're on bloody huge pieces of cardboard. Writing on the vehicle in chalk or with grease pencil isn't permanent either. I like to use neon colored zip ties specifically for this purpose. Slap one on what you want to come back to and go right back to what you're doing.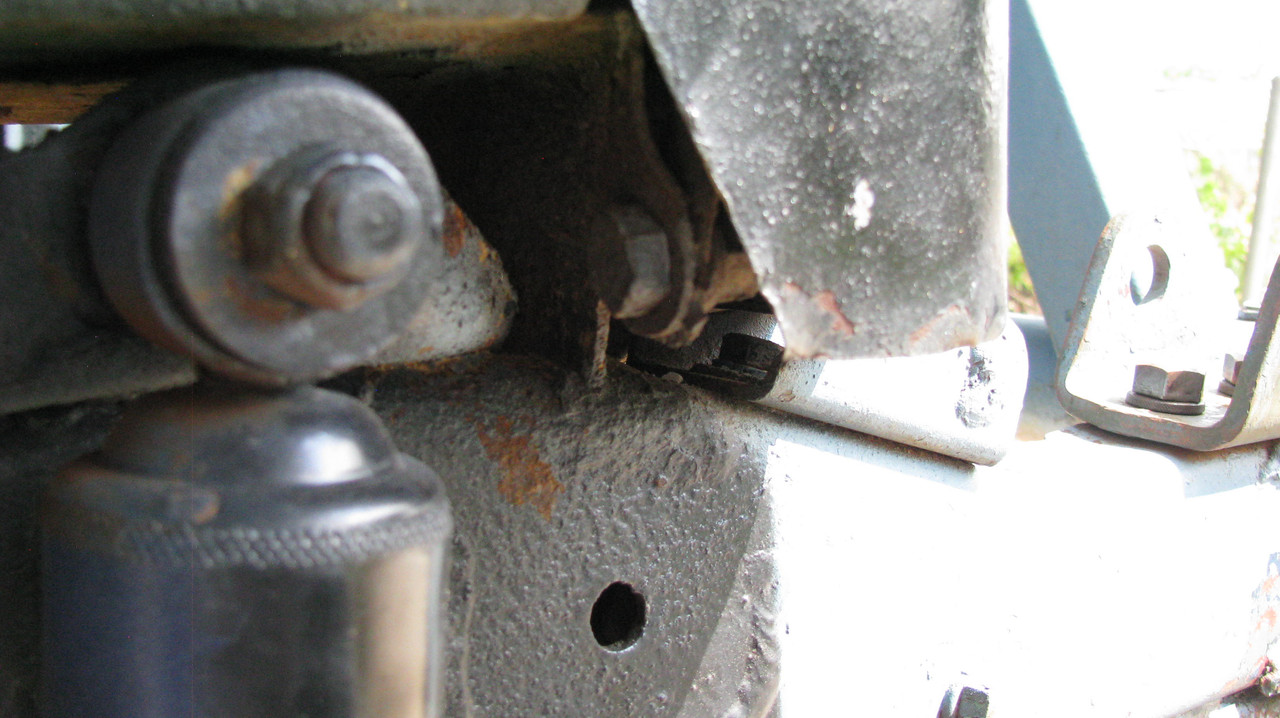 Brakes
are
part of this iteration and this zip tie is keeping this junk out of my way until I'm ready to deal with it. I love zip ties and I buy em by the gross! Speaking of gross, I *ahem* believe my rust hole is showing!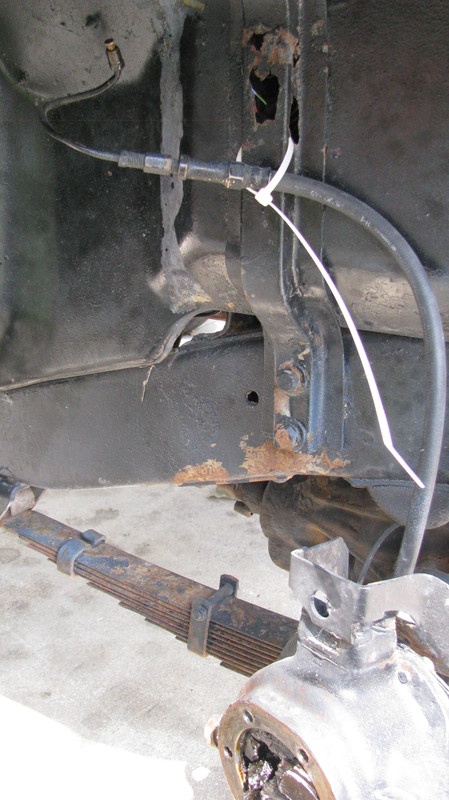 With the spindles removed, out come the axles. Remove them carefully and, as a whole, like you'd deliver a baby. These are Bendix style joints.
But
...pull the axle out by one end and there is a possibility that you'll suddenly find about 4 large silver marbles suddenly rolling around at your feet! If this happens don't lose your mind. Just keep everything kind of together and when it comes time to reassemble, mic' them and the ones that are closest in size go in opposite one another. Easy-peasy. It's 1940's technology, not rocket science.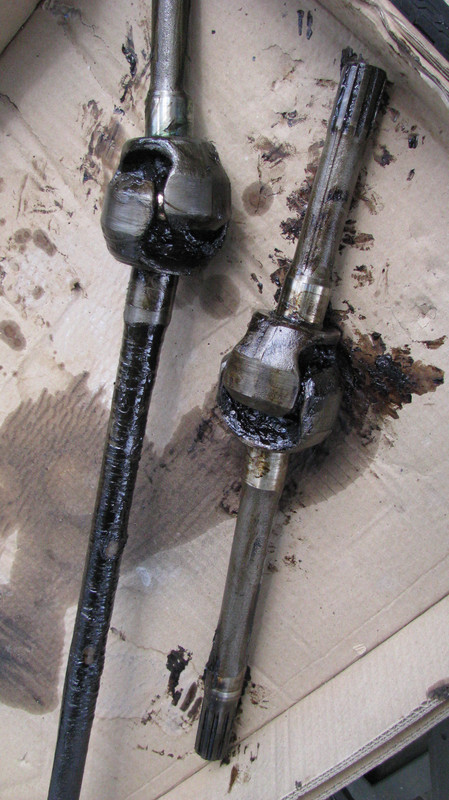 Here, I've wiped one shaft off. Notice how the grease has migrated past the seal and into the "wet side" of the axle? That's an indication of a bad seal allowing grease and 90wt to intermingle -OR- it may be an indication of a marginal seal that over a
very
long period (this truck is 67 years old, after all) has allowed some 90wt to weep by -OR- it may even be an indication of the use of the wrong lubricant in the steering knuckle (also highly likely). Here is how I am going to proceed on this matter. I am going to keep my focus and renew the steering knuckles and every other thing out at the ends of these axle tubes. The seals (which are deep in the differential) are going to wait and once I run this a bit, we'll see what happens. If I find the seals are intolerably bad, we'll drop the axle and dig into it and sort that out but for now, time-wise, it is better to press ahead with just these few things. Remember, this is not a high speed race car. It's more like a farm tractor and with that being the case, the truck can withstand a certain number of things being not quite right and still get along just fine.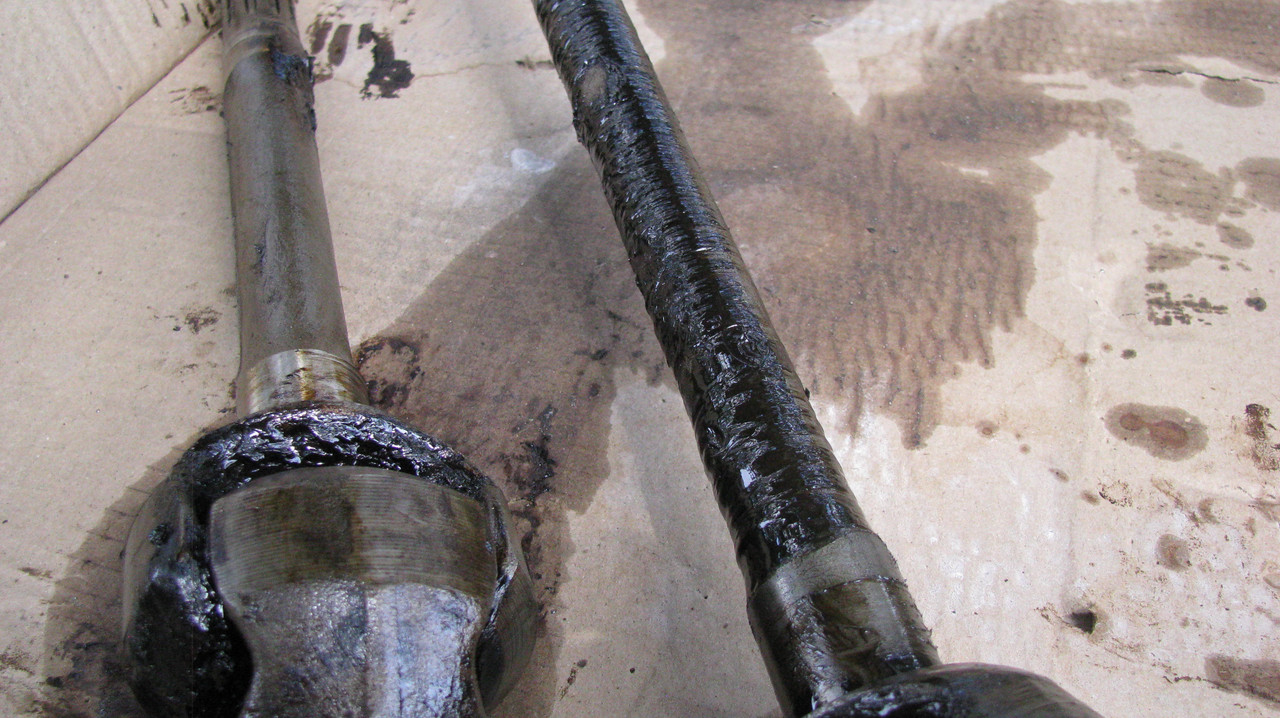 And now we've made two big gaping holes.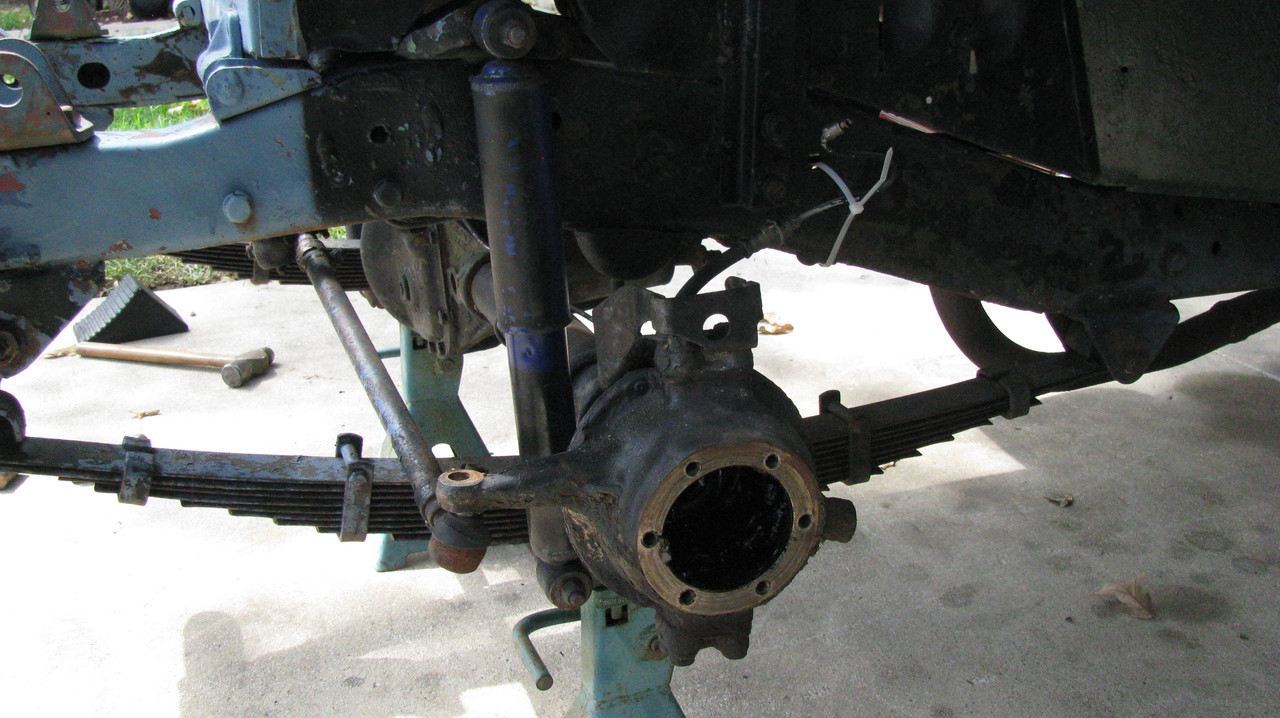 Next we'll remove the guards for the brake lines. They are bolted to the top of the upper king pin bearing cap. We need to get these out of the way so we can remove the seals at the rear of the steering knuckle.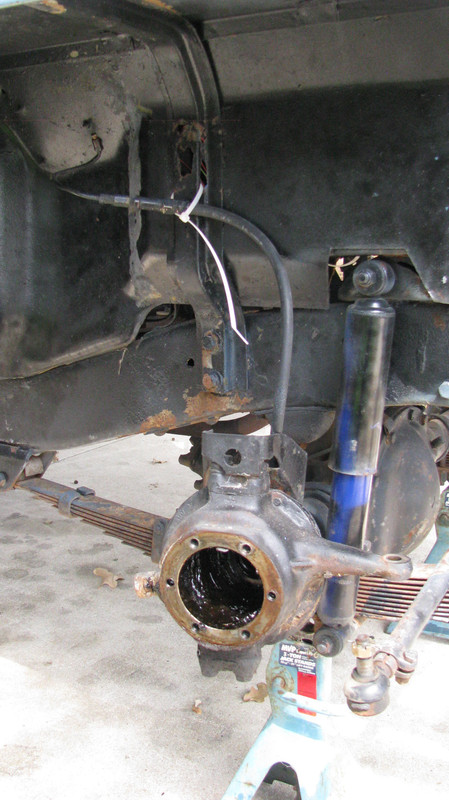 The guards are the same part, used on both sides. They are held on with only two of the four bolts securing each of the upper king pins.
Author's note - The two bolts holding each guard on are supposed to be just a tiny bit longer than the other two bolts. Vehicles this age have most likely had some work done in this area and there is a very high likelihood that these longer bolts have found their way into another hole reserved for the shorter bolts. If that happens, there

ABSOLUTELY WILL BE DAMAGE

to the king pin bearing, so pay close attention when removing these. Check them for length and upon reassembly ensure the longer bolts are used to secure the guards.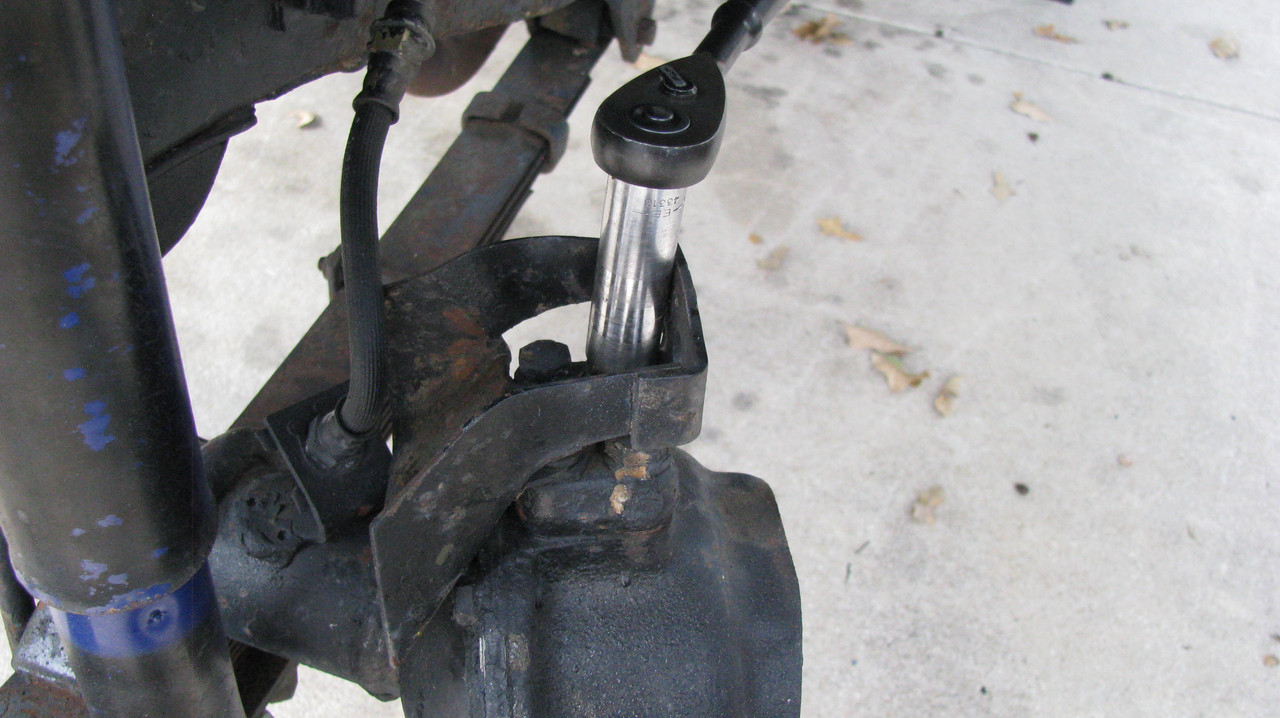 This one appears to have had a close encounter of some kind..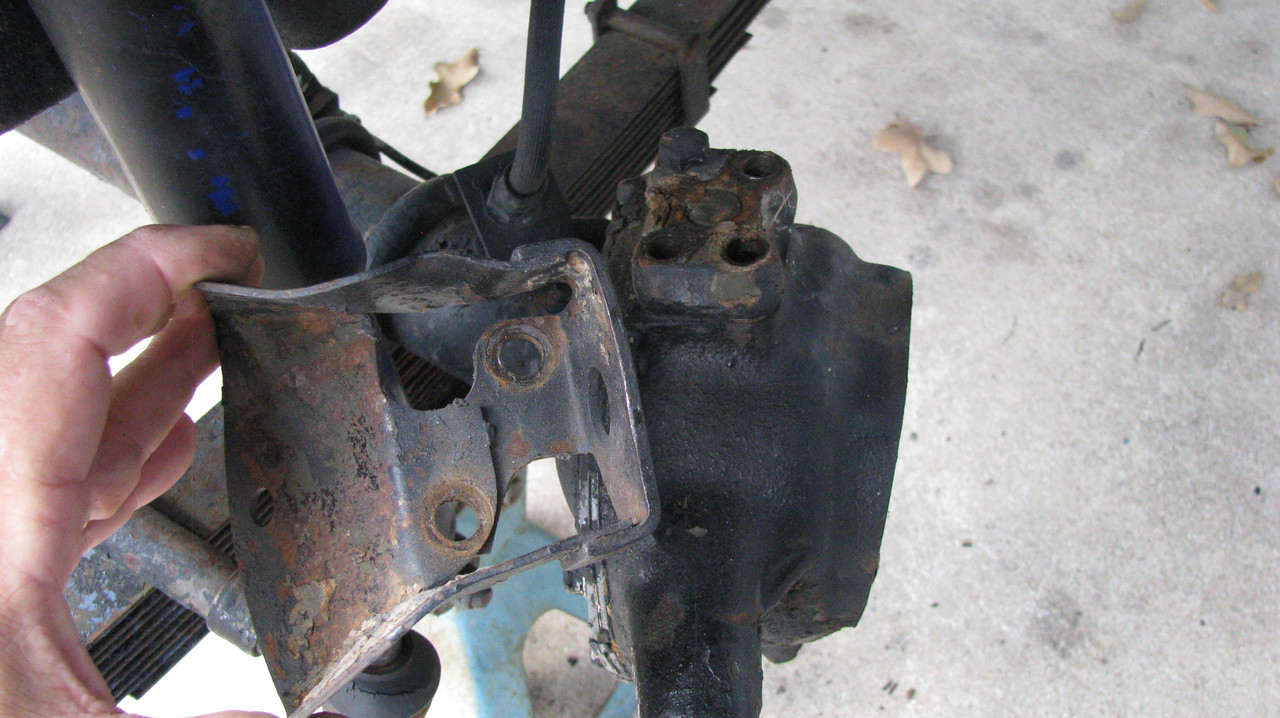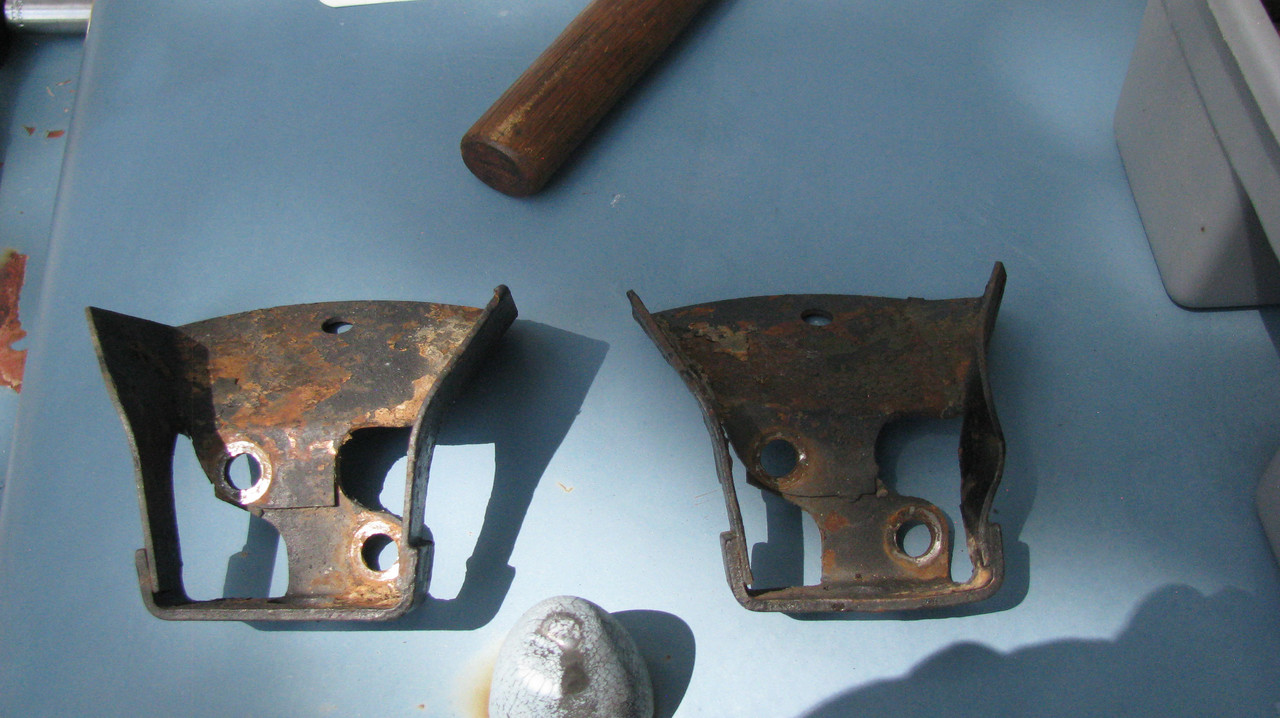 With those removed, we'll move on to the grease seals at the back side of the knuckle. These grease seals have an upper and a lower hemisphere. Each half is held on with four short bolts. Your new grease seal
may
be one solid ring.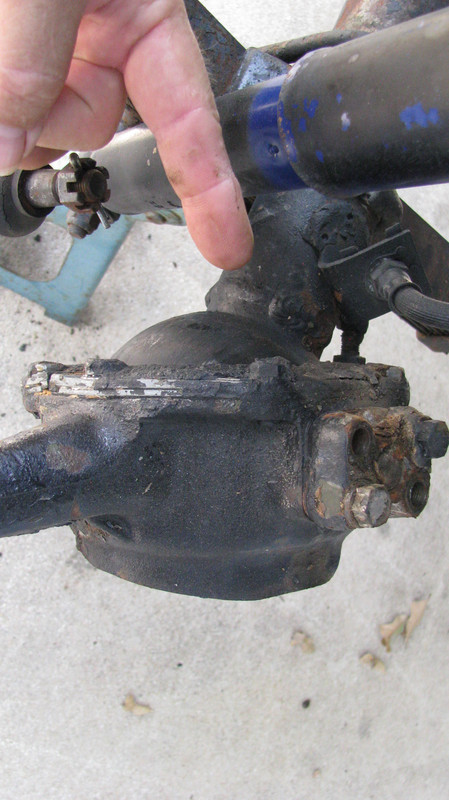 This is why we do it, folks.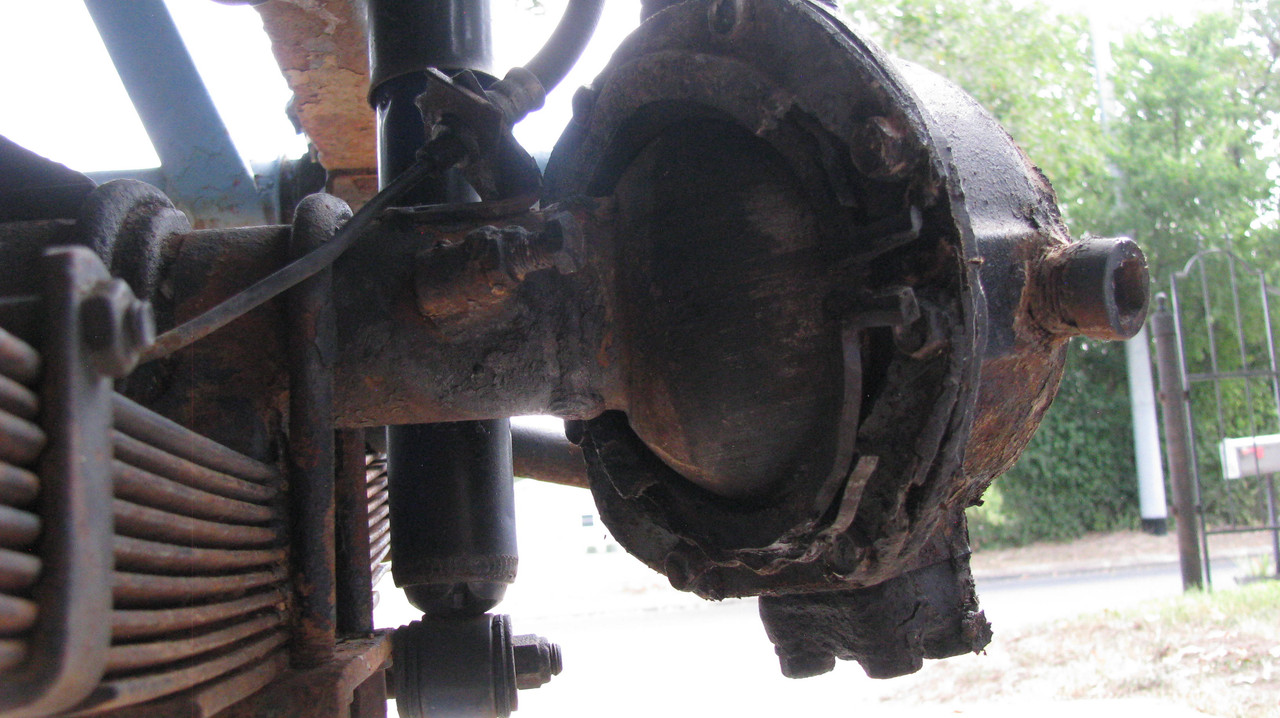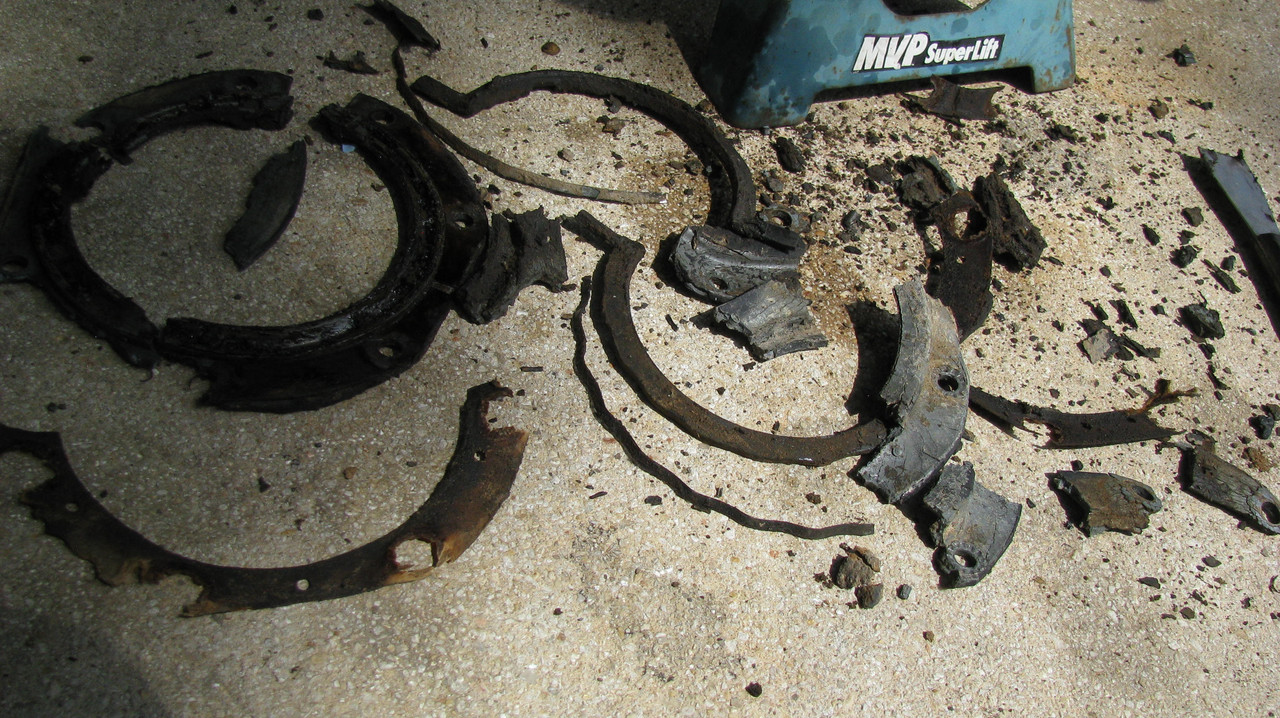 Note the large gap that the grease seal has to cover when the steering is hard over.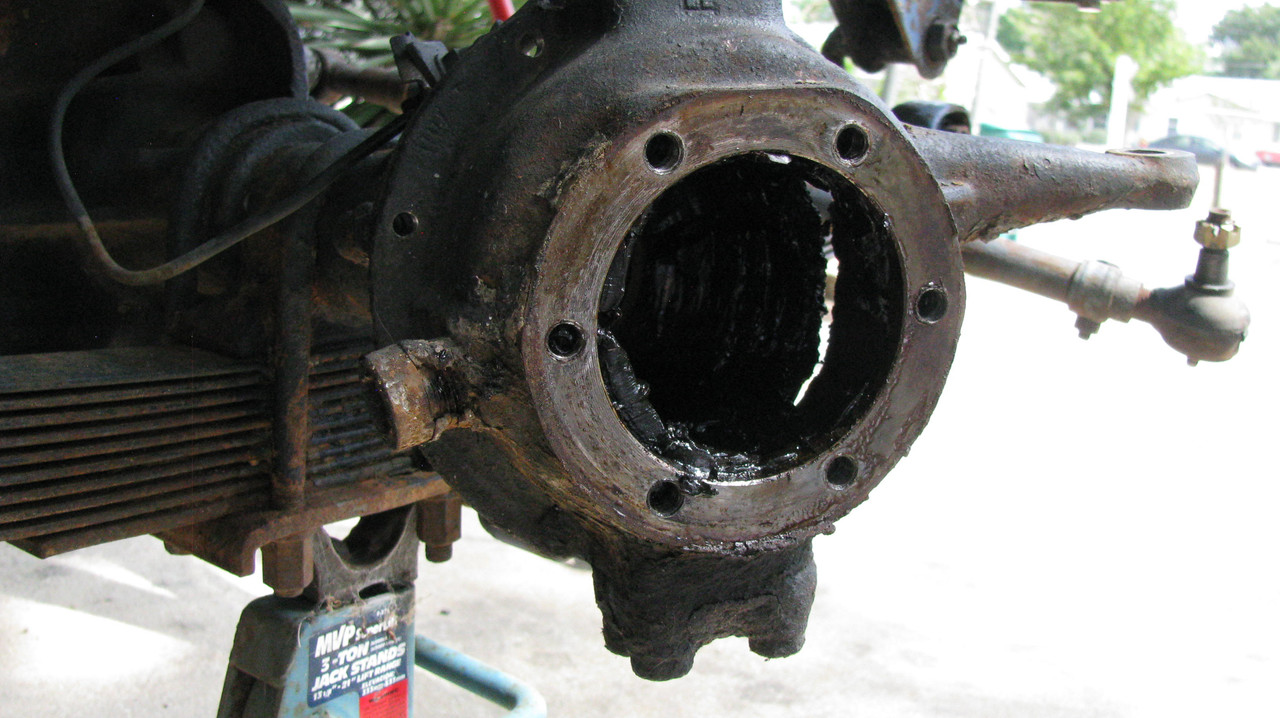 And here I've found a tiny little nugget of goodness amidst all this awful stuff.
VERY cool!
I'll make sure that finds its way back on when we put everything back together.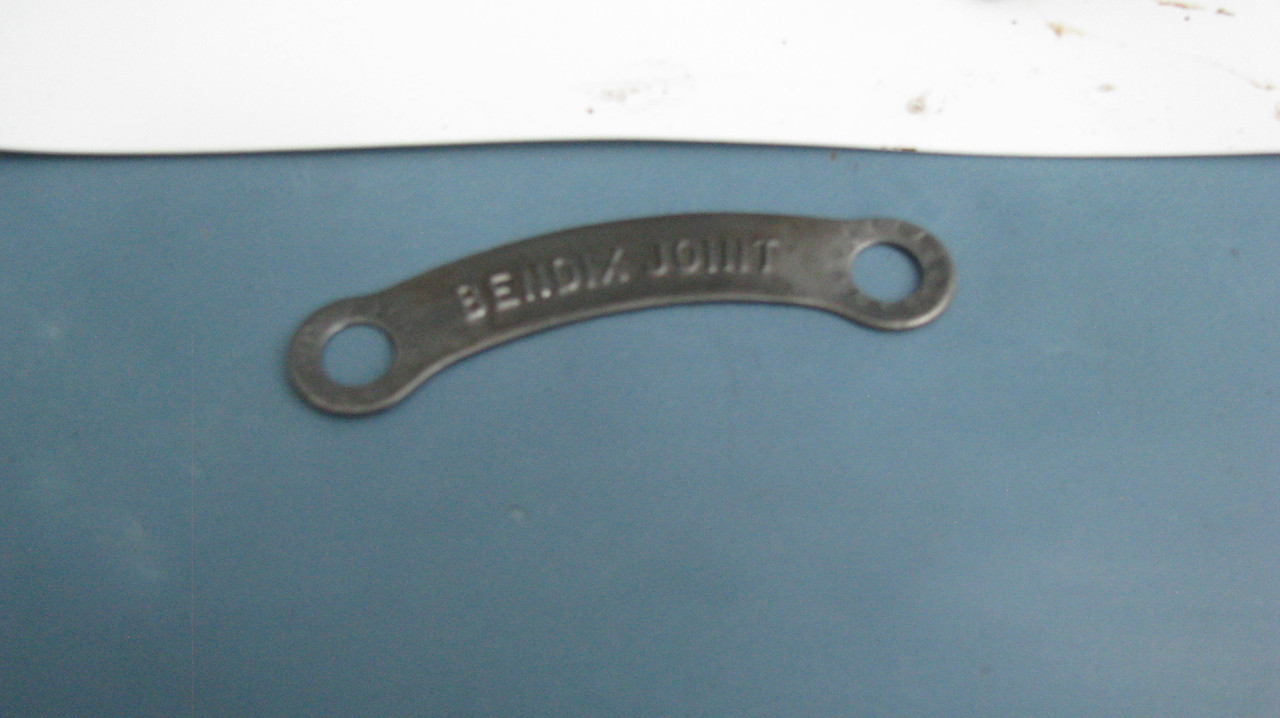 Ok, here is where I had to put the camera down because this is where I got really dirty and greasy. Order of disassembly was as follows -
Loosen
all
the bolts securing each of the king pin bearing caps to the steering knuckles. Do not remove any king pin bearing cap until you have loosened
all
the bolts. If you do and if you then starting working on loosening other bolts on the opposite end, things get really wonky. It's not a fatal mistake but it's very awkward and people will make fun of you behind your back and call you names. Next, remove the upper and lower king bearing caps, straight up and straight down. Look for and recover the shims that are sandwiched between the top king pin bearing cap and the steering knuckle. Keep them all together, where they belong, for now. The shims are for setting the proper preload on the bearings. Then, pull the knuckles straight off the end of the axle tube. The lower bearing will, most likely, fall out of it's cup. No worries, they're surprisingly tiny and a short fall won't hurt it a bit. With that you're ready to start wiping up and disposing of lots and lots of really
horrible
grease...
...and with
that
done, this is what you'll end up with.
The bearing cups are going bye-bye. Actually, they went bye-bye a long time ago. This damage, even and localized is called false brinelling. Consider that these bearings don't go round and round like the bearings of an axle. True brinelling takes place while the bearing is in motion and thus, leaves a wear pattern at an angle. These bearings probably spend their entire life within only several degrees of their initial installation point which makes it all the more important that they be adequately packed with lubricant and that the preload be set properly. The cause of this damage is simply vibration between the roller bearing and the cup while the bearing is stationary, relative to the cup. Every bearing cup on the front end has this wear and will need to be replaced, along with the bearings.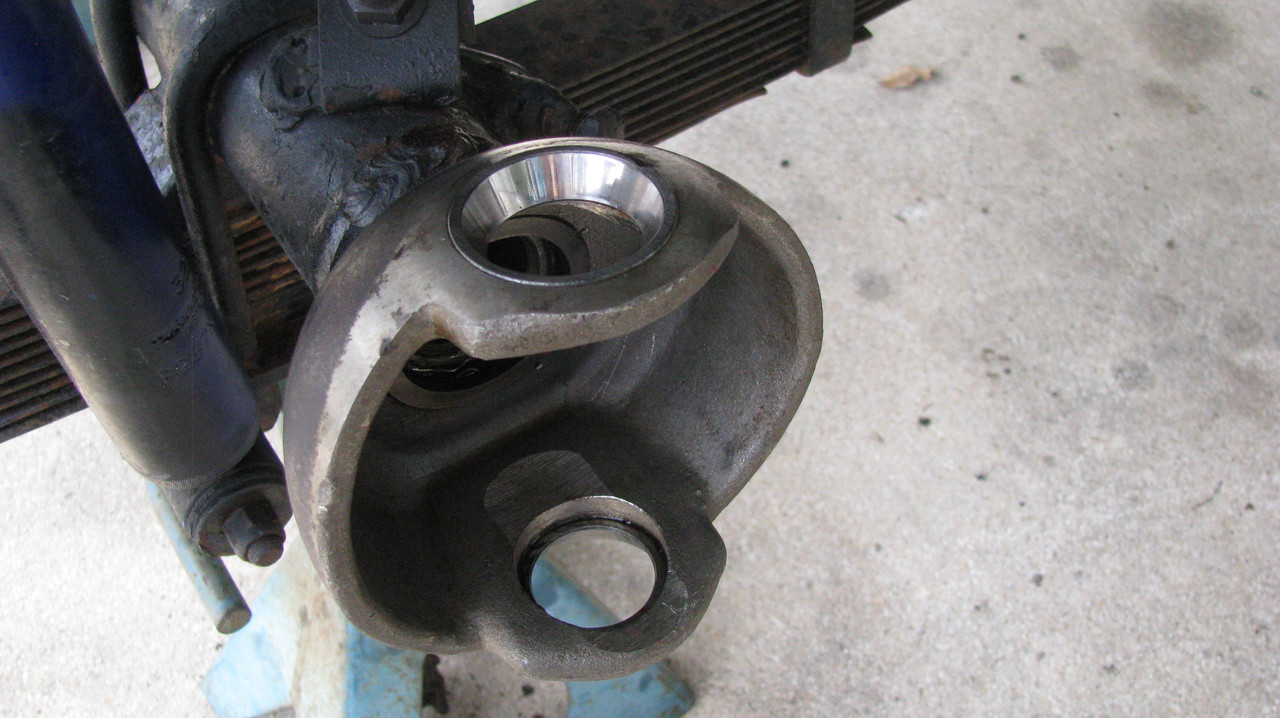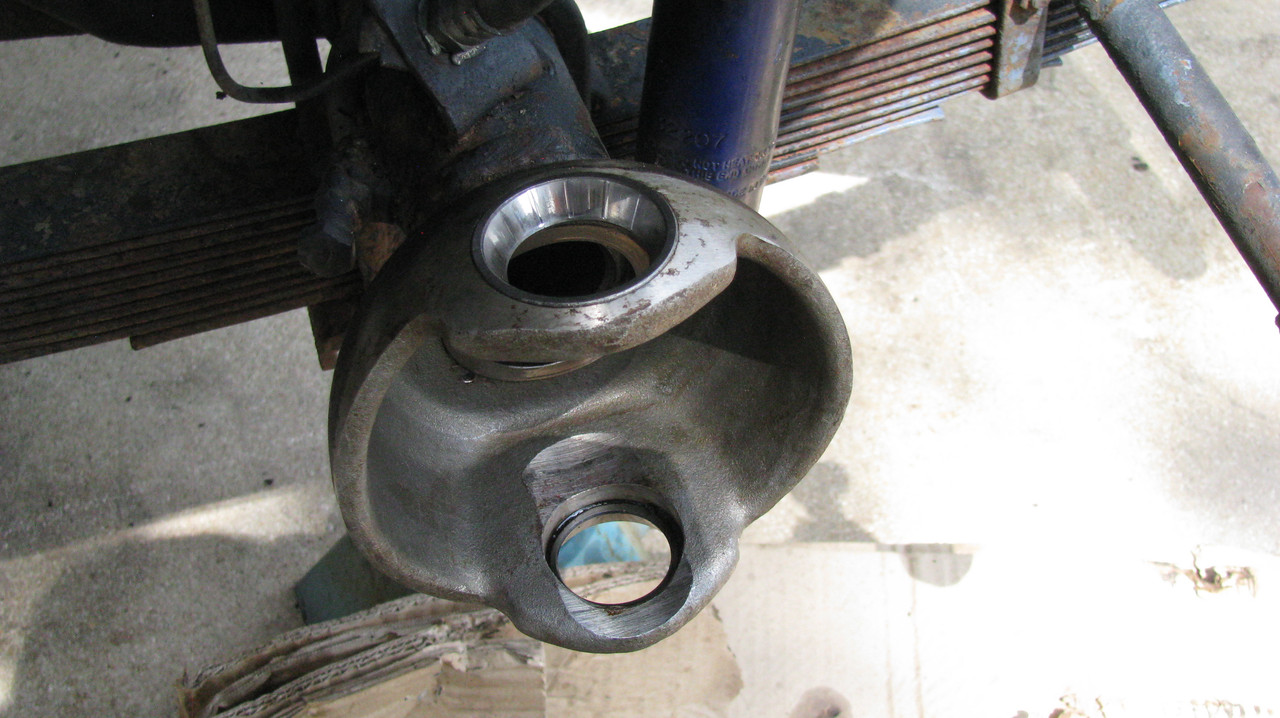 Here I have laid out my parts in a sensible manner, prior to the laborious process of cleaning.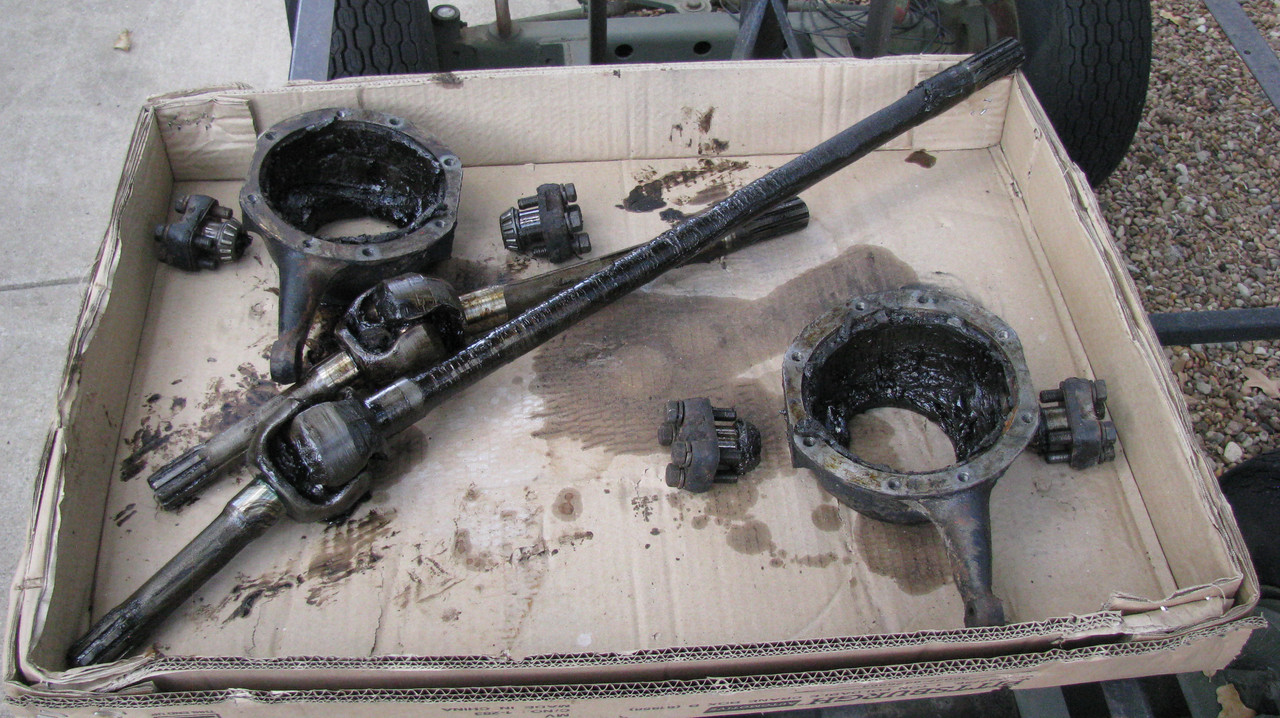 This seal actually came out intact!
The other side...in a million little pieces.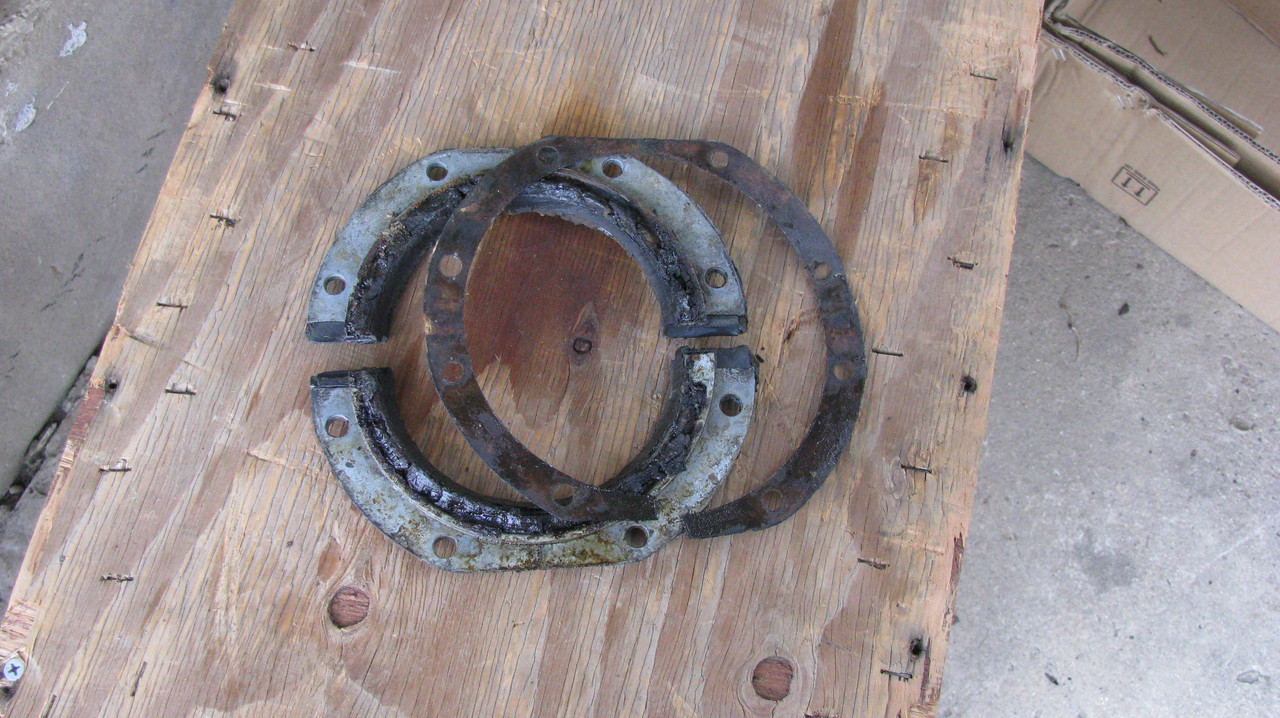 Inner bushing.
Here, I'm having a go with the wire wheel. This did a very fine job inasmuch as I removed most of the dirt and surface rust. But, I'm afraid the whole thing is going to need a bit of a polish with crocus cloth and maybe a wipe down with Ospho to kill the rust deep in the pores of the metal. The new seals will require a relatively smooth surface to work against. If you find you have some really deep pitting in this area it must be filled and brought back to smooth surface.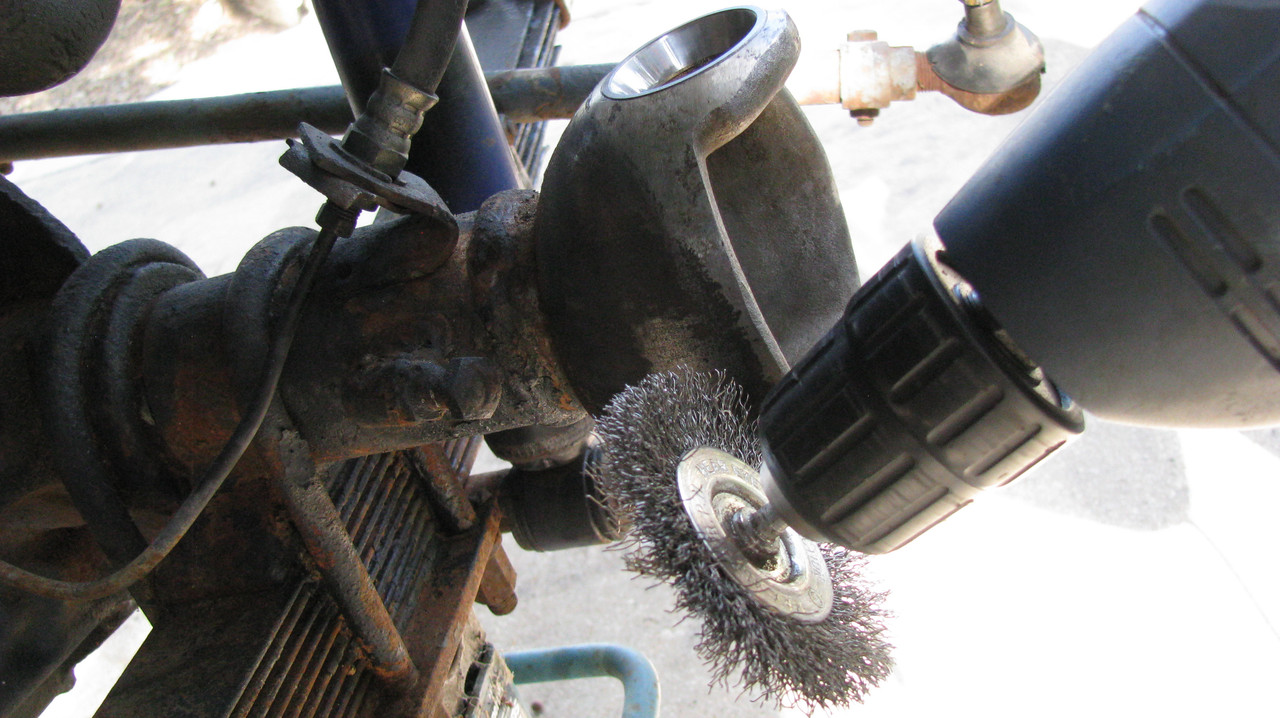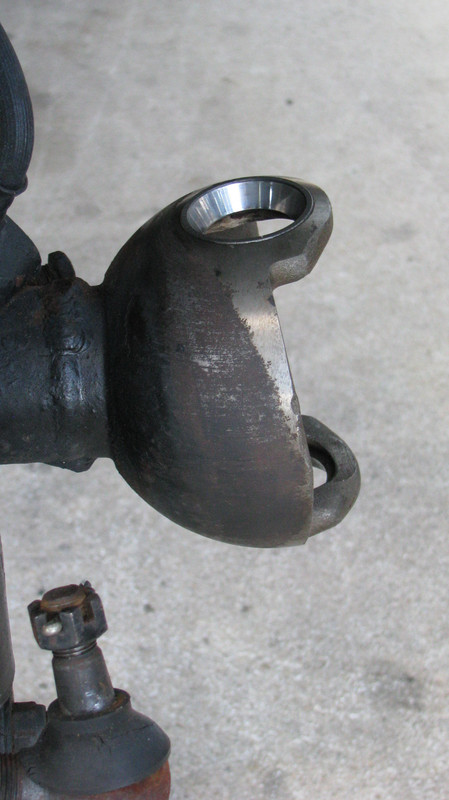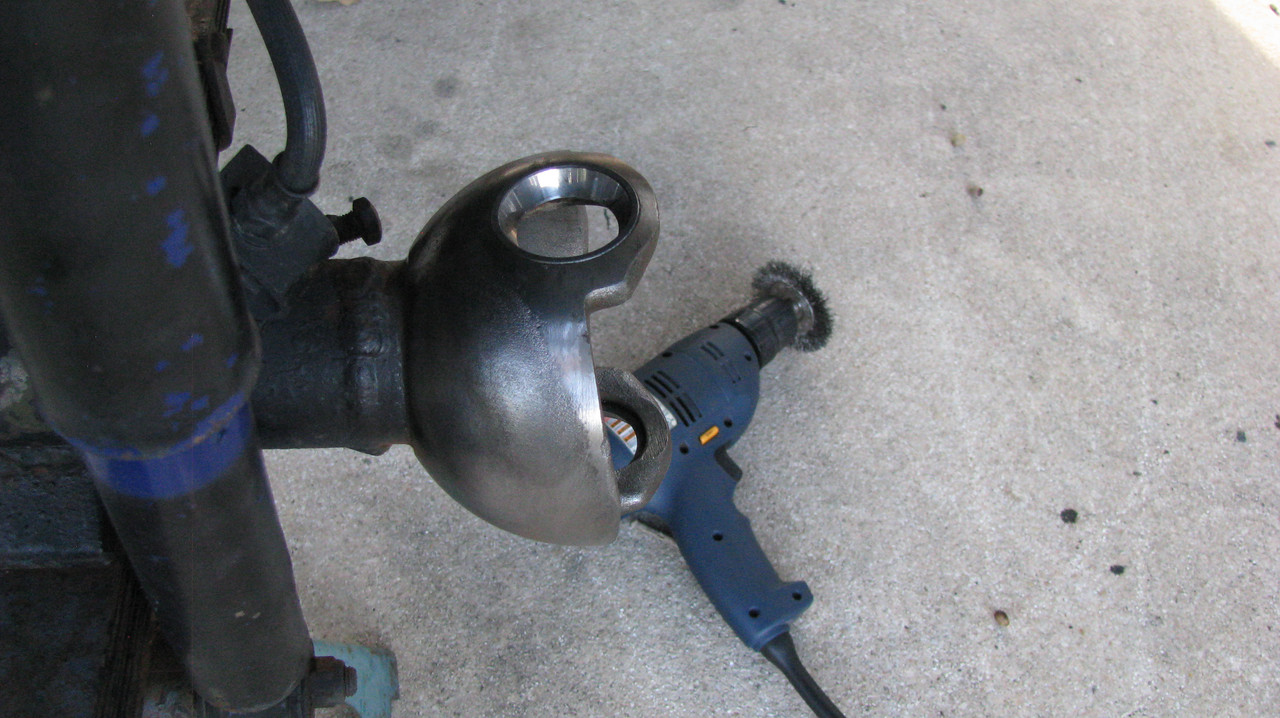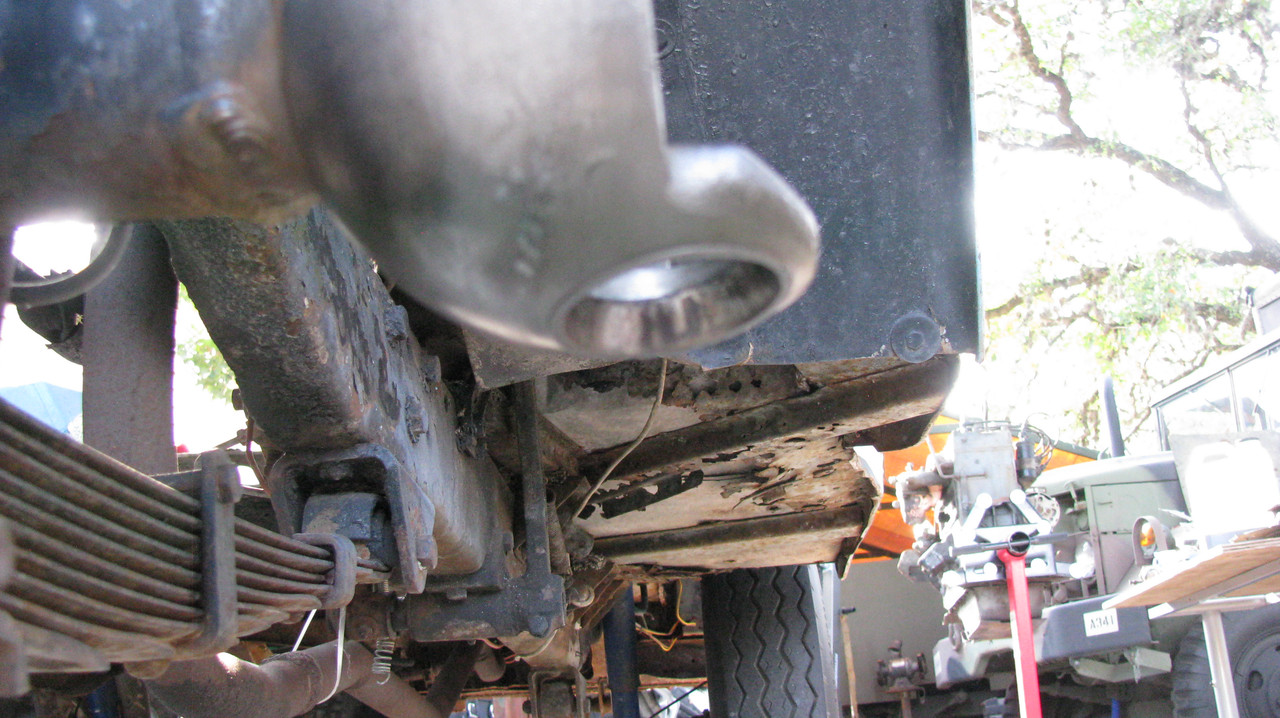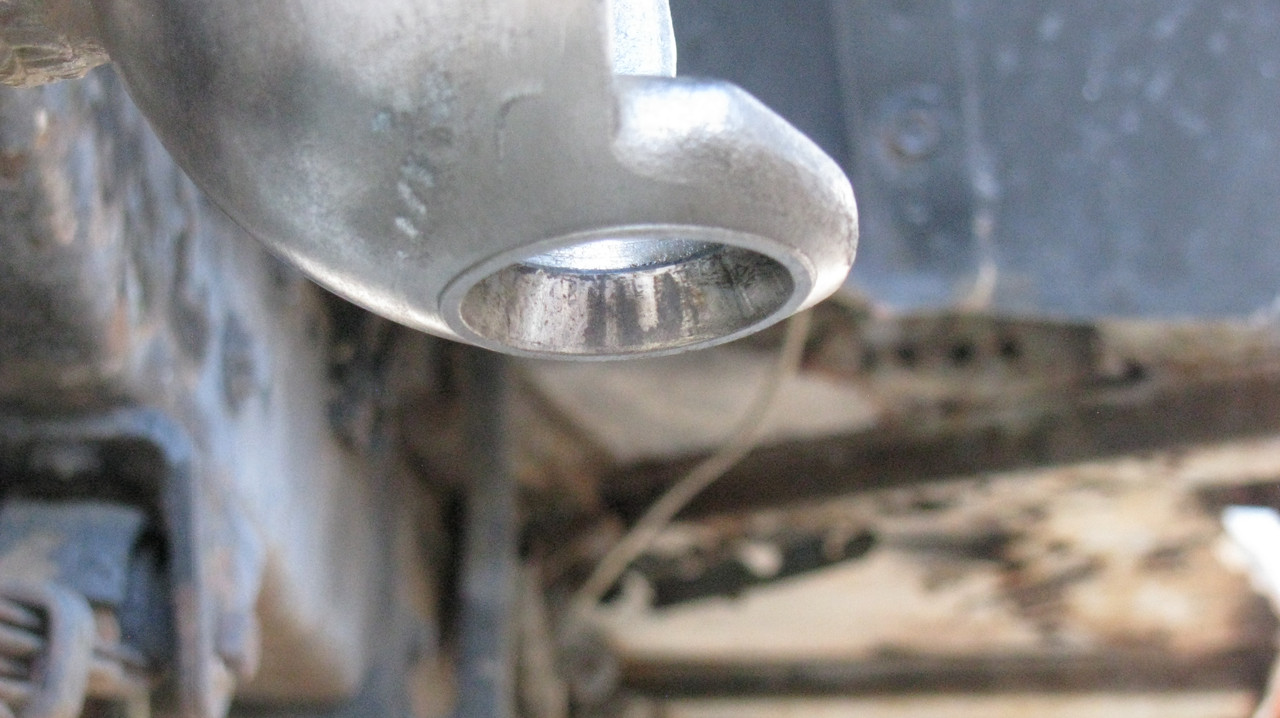 And finally, more stupidity. Where the
heck
did that zerk go?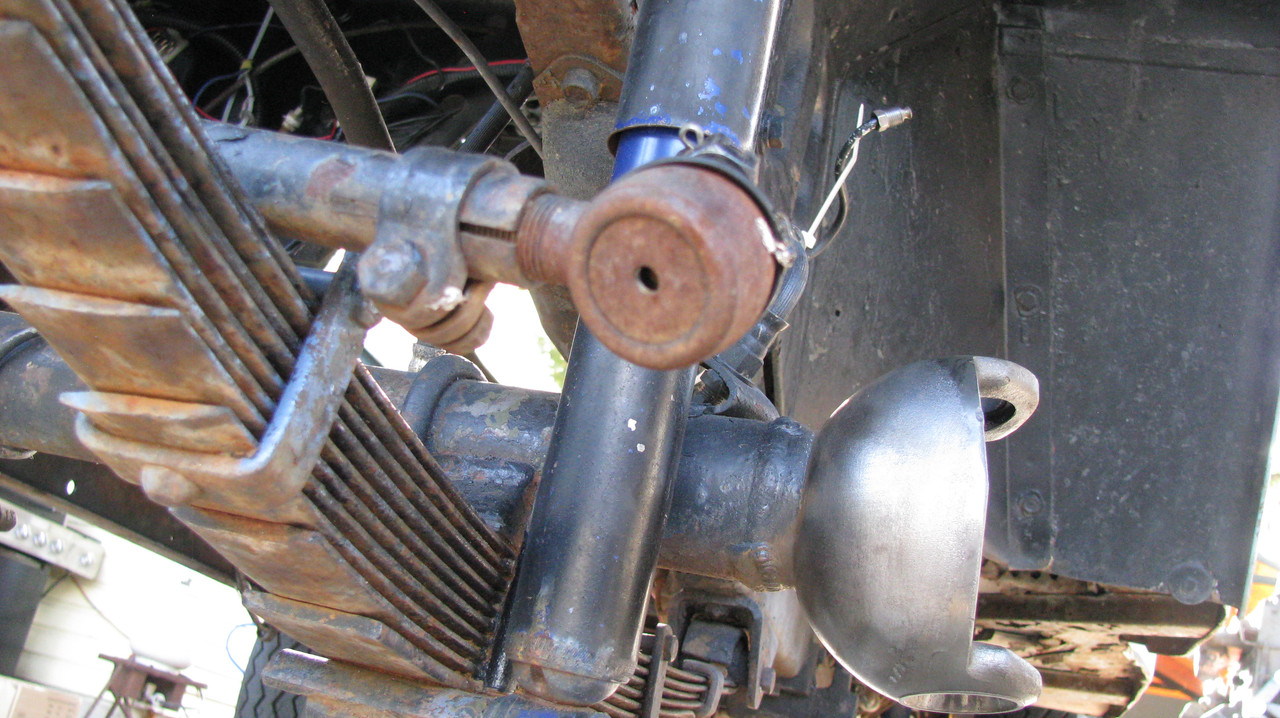 Cheers,
TJ