Today I took the rear differential out of the Alley Cat. There was clear evidence that it had been leaking but I had an idea that it might be in much better internal condition than the differential in my A2 which continues to make some rather discouraging noises. So I got up under there and, after removing the left axle, gave her guts a spin and it felt like it was running
much
tighter than my A2's differential. So I plucked it out and got it up where I could play with it a bit.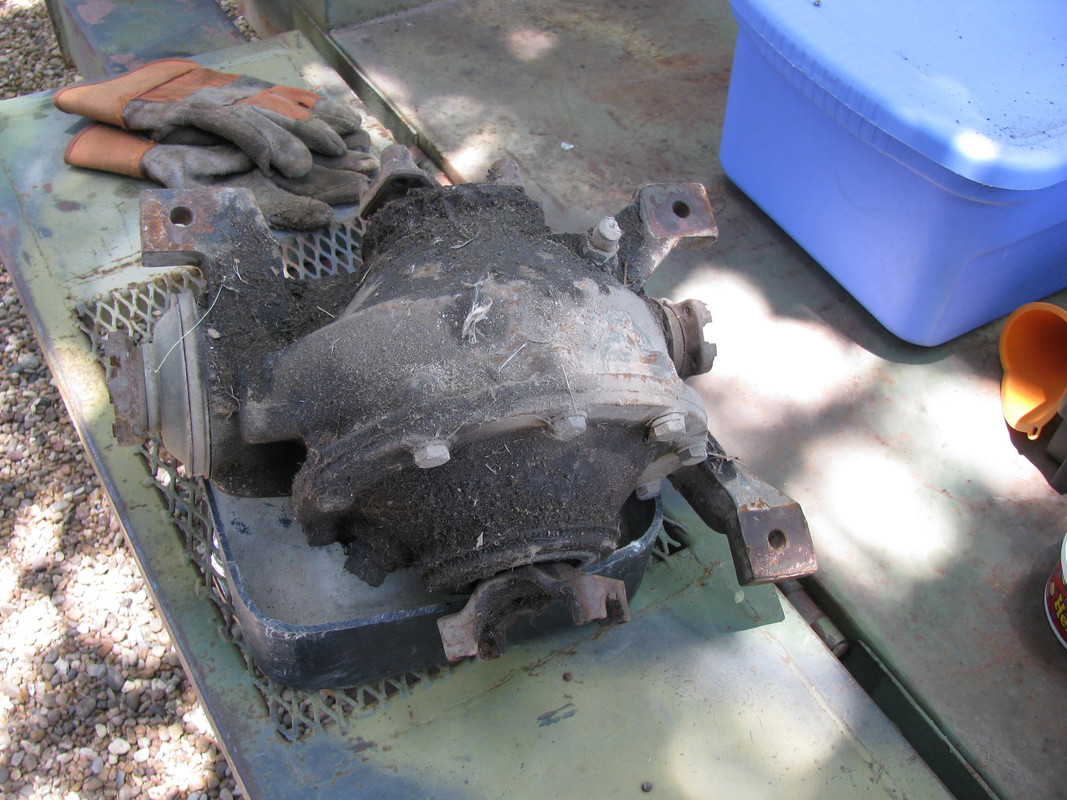 I scraped it down with that dull knife I keep in the toolbox and followed up with a wire brush, then some PB Blaster and a tooth brush and a bit more scraping here and there. Wiped it all down and power-washed it, keeping the focal point of the spray nozzle well clear of the seals. Hit it with some degreaser, scrubbed it and power-washed it all over again. After some primer and paint, this is what she looks like! Sexy, eh?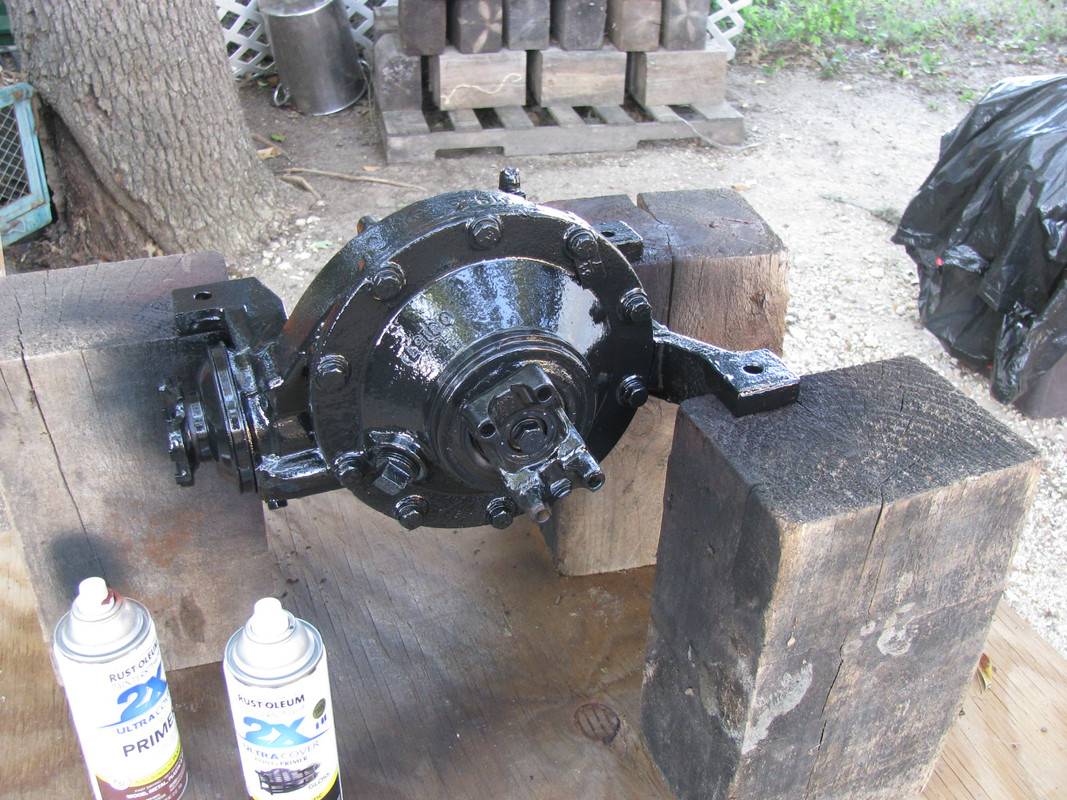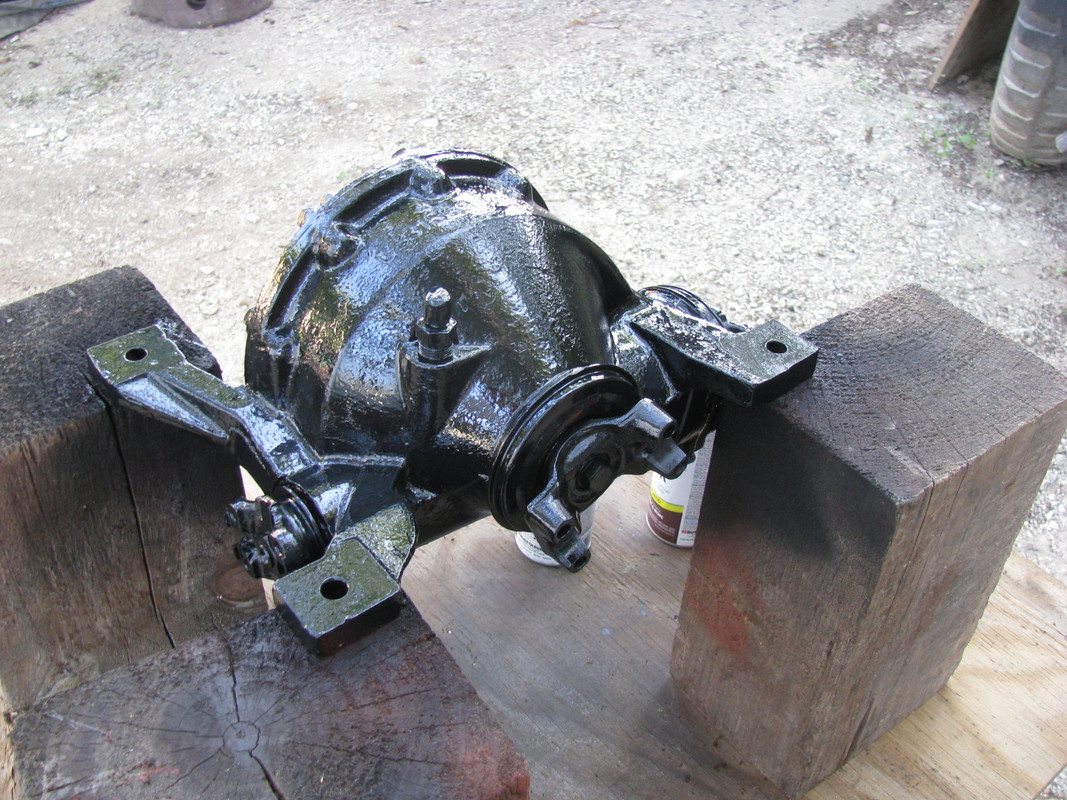 Once the paint cures I'll be going in and renewing the seals. I cannot seem to get the drain plug to come loose. Its stubborn-ness is being compounded by the fact that the differential isn't mounted in the truck so I can't get much leverage on it. I'll try it again when I get it back in the truck.
Author's Note: After putting this in the A2, I
still
couldn't get that plug loose! As a result, I wasn't able to see what the lube looked like inside this contraption so, I will share with you and couple of thoughts. I
should
have flipped it over and drained it through the fill-plug. I got distracted by some other things going on around here and wasn't thinking about what I was doing. As a result, I forged ahead with my original plan to remove the plug once it was back in the truck which is not a wholly unreasonable plan, right? Well, guess what.
WRONG!
I put the rear end in and I couldn't get the drain plug out...
and
I wanted to drive my truck. I
really
wanted to drive my truck! I have been limping along with a horrible rear differential ever since I got the A2. So basically, I threw caution and good sense right out the window. I put this component into service without really knowing what I had in there for lube. It felt good and smooth while turning it by hand but the bottom of that differential could have been filled with peanut butter, for all I knew. Things worked out OK but it was actually a roll of the dice and I really don't enjoy operating like that. So, here I am, two days later and the plug is still grimly hanging in there. I have scraped away the paint around it and am dosing it daily with PB Blaster and running the truck but only barely. All that lube and all those micro vibrations should help it come loose. I think being patient with it is really going to be what is needed to get it loose and I won't have to tear up the plug by forcing it.